Scotland captain Andy Robertson has admitted his team "didn't show up" as Ukraine ended their World Cup hopes at an emotional Hampden Park.
The world's attention was on the game due to Russia's invasion of Ukraine in February, but, despite the distraction of that conflict, the Glasgow visitors were more accomplished when the focus turned to football.
Scotland's 39-year-old goalkeeper Craig Gordon didn't keep the visitors out until the 33rd minute, captain Andriy Yarmolenko deservedly gave Ukraine the lead and Roman Yarmolenko gave the visitors a well-deserved lead. Roman Yaremchuk doubled the lead with a header three minutes after the break.
Midfielder Callum McGregor pulled a goal back in the 79th minute as Steve Clarke's men fought back, but it was too late, with Ukrainian substitute Artem Dovbik in extra time A breakthrough third point of the game has booked a place against Wales in the play-off final in Cardiff and a place in Qatar will be up for grabs on Sunday.
Robertson told sky sports"It's very disappointing because we've been waiting so long for this game. We've played really well before, but honestly we didn't really show up.
Highlights of the World Cup play-off semi-final between Scotland and Ukraine

"Ukraine adapted to the game quicker than us and it's still going. We know they might get tired and that's the case, but we gave ourselves an uphill battle.
"We had to try to stay in the game, but we didn't do that. We opened ourselves up to the counter-attack because we had to try to score goals. We didn't play the way we wanted and unfortunately, It passed by us.
"We let ourselves down tonight after a very positive campaign. It took us 11 games to get here after a very positive campaign.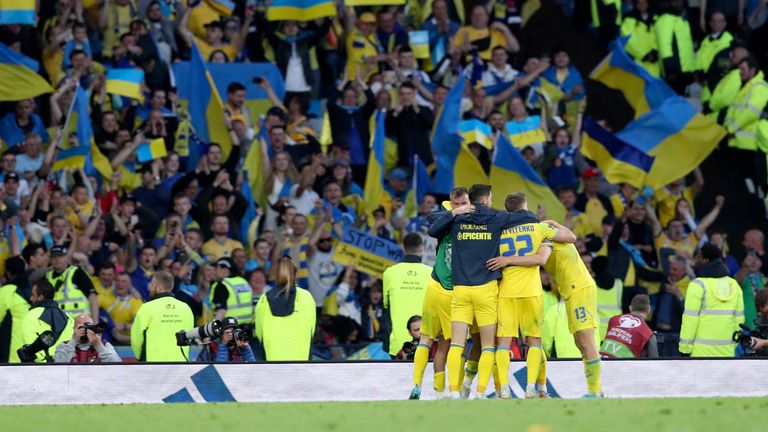 "It's going to hurt to finish second and get the home play-offs. We need to reflect on tonight and tomorrow is a new day. Another four years in the World Cup and we're all dreaming of trying to play that big game we didn't show tonight to prove it.
"But we have to be united. We know we're going to be scrutinized, we know we're going to be slammed because that's the way it is, but we've got to be united.
"We've come a long way and there'll be time to have an opinion on that, but tonight is not night. We can only say sorry to the fans here and home for letting them down, but we just need the dust to settle and we come down on our own. Walk."
Petrakov: We play for those in the trenches
Ukraine boss Oleksandr Petrakov says their World Cup play-off semi-final victory over Scotland is for those who fought and suffered at home

The visiting manager Oleksandr Petrakov said all his emotions "stayed on the pitch" after his side's unforgettable win over Scotland as he took the game to the next level. The victory was dedicated to "those who fought in the trenches" in Ukraine.
"To be honest, I have no feelings for you," Petrakov said. "All my emotions are left on the football field. This victory is not for me, not for the team members, but for our country, so it is a huge victory for Ukraine.
"We work for those who fought in the trenches, who fought with the last drop of blood. We also work for the Ukrainians, for those who suffer every day."
Petrakov admits his side has one more step to go before they can fully celebrate, with the final against Wales now looming.
"We have taken a small step towards our great goal, but we still have a game against Wales ahead of us," said the manager. "We're going to do everything people expect us to do in Wales and we'll make Ukrainians proud to be Ukrainians, just like our team and myself – we're very proud Ukrainians."
Petrakov added: "In this difficult time, I also want to express our gratitude to the people of Scotland for this incredible, amazing and welcoming place.
"I was walking down the streets of Glasgow city centre early yesterday and the Scots approached me and wished me all the best. Thank you Scotland, we will never forget that."
Zinchenko: We have dreams of reaching the World Cup
Ukraine captain Oleksandr Zinchenko says his team has always dreamed of reaching the World Cup and must give their best performance to beat Wales in the play-off final

After their first defeat in nine games, Clark's side must now regroup and somehow prepare for their Nations League opener against Armenia at Hampden Park next week.
So much was promised for Scotland on the night, but with the support of some 3,500 fans, Ukraine deserved their victory as six players did not play an official match in 2022.
Aleksandr Zinchenko is the man of the match, Manchester City full-back tells sky sports"Everyone knows the situation in Ukraine, every game is like a final. As a team, we have a dream of going to the World Cup.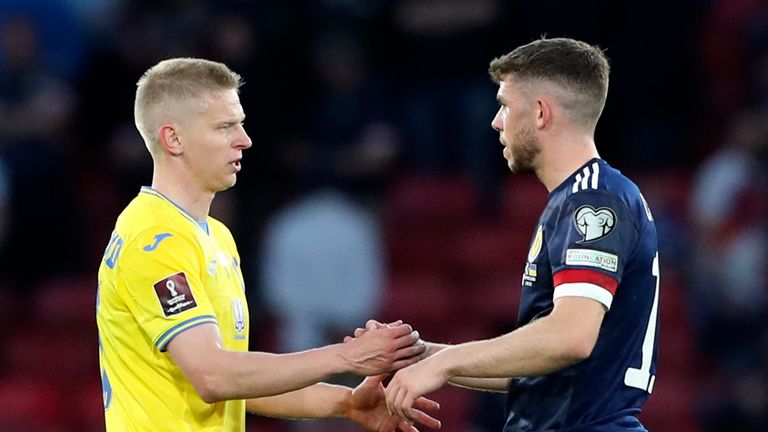 "We have one more game, one final, and we need to win it. Otherwise, the game will be meaningless.
"Scotland is a great team with incredible players on every line. But we did well. We scored the three points and could have scored more.
"The Wales game means a lot to us. We need to show the best performance of our lives and then we'll see what happens."
Clark: We can't forget the progress we've made
Scotland manager Steve Clarke says better team wins after his side's 3-1 loss to Ukraine in World Cup play-off semi-final

Scotland are unbeaten in 12 home games at Hampden Park (W8 D4), while Ukraine ended the hosts' longest unbeaten run at home since May 1978 (16).
They have now failed to qualify for the last six World Cups since appearing in the 1998 edition. From 1974 to 1998, they missed just one of seven games.
manager Steve Clark told sky sports"It was a disappointing night. We have to be honest and the best team of the night won. Congratulations to Ukraine. I wish them luck when they go to Cardiff. You have to wish Wales good luck too. It should be a great game.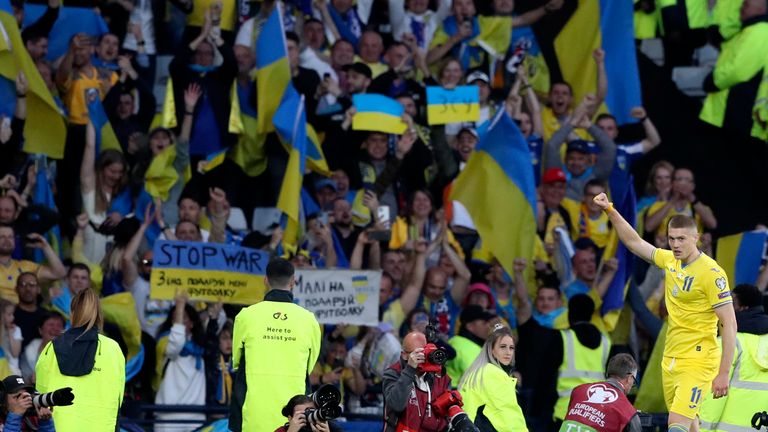 "In the first half I thought we didn't play enough, we didn't get the ball down. I made a change at half-time but we didn't give ourselves the chance to take advantage of that change because we were down 2-0 earlier in the second half "We showed character and we made it. John missed a great opportunity. It was a Ukrainian night, not a Scottish one.
"It's a night of suffering. But we can't forget the progress we've made over the past three years. We qualified for Euro 2020, we're in the play-offs for the World Cup. We can grieve together"
Analysis: 'Ukraine makes Scotland look pedestrian'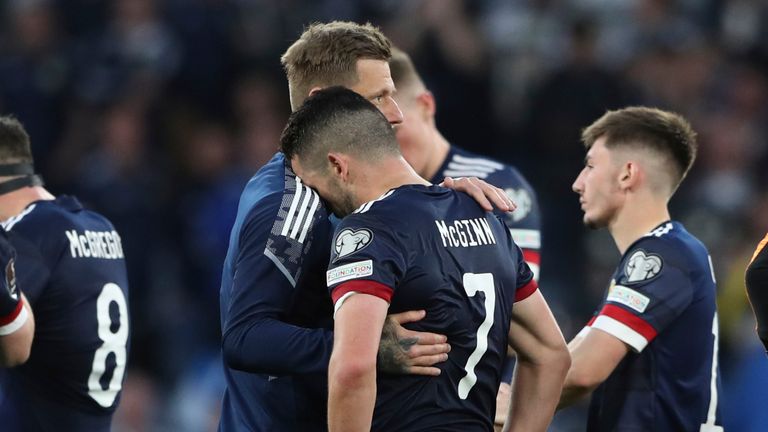 Graeme Souness, Sky Sports:
"Scotland put themselves back into the game and in the last 20 minutes we had the right to say 'if… a second fiddle.
"You have to praise Ukraine for the way they go into the lion's den and perform.
"We can point out that McGregor's block on the keeper is easy to get in, McGinn has to score with his header, but I think if we get something out of this game it creates the wrong picture.
"Ukraine looked really good, they kept us underwhelming for most of the first half. They could have ended the game long before the third quarter.
"Zinchenko presided over the game and I don't think what we saw from him tonight was surprising. The way he played at City, he was in and out of left-back and midfield.
"When he got into midfield, he was a very good footballer, he was the catalyst for Ukraine to keep the ball, to get the ball through at the right moment.
"He plays like an experienced midfielder. I don't want to be hard on Scotland because we play with energy, but we don't have the quality to match Ukraine in key areas.
"It makes me sad to say that, but we're not good enough."
Paul Lambert thinks Scotland didn't start as well as they should, but Ukraine did well and deserved to progress and play-off World Cup final with Wales

Ally McCoist of Sky Sports:
"Ukraine deserved it, frankly. They've been calm – honestly, they could have been more calm. Ukraine was stronger than Scotland, who came into them in the second half with a rage. Scotland scored and put Ukraine under a little pressure. But always Well, no complaints. The better team wins.
"I don't think it's too big an occasion for some players, I just think it's a brutal fact that Scotland was beaten by a better team.
"We were a good team but tonight we were beaten by a very good team and they were better than I thought.
"It was a brave and bold decision to play two up front and I don't think it worked for us. When you do that, they dominate the middle of the park and they put that to good use.
"The two wide players would start high in the park, then go into the area and pass us in the middle. They are very smart and Zinchenko is the best player in the park. He is absolutely brilliant."
What's next?
Wales will now face Ukraine in Cardiff in Sunday's World Cup play-off final.Game is live sky sports football Starts at 4pm and starts at 5pm.