American international footballer Megan Rapinoe, who has been at the forefront of human rights issues, has denounced the US Supreme Court's ruling on abortion as "pathetic and cruel".
Protests are underway in the United States after a court removed constitutional protections for those seeking abortions.
A court overturned the landmark Roe v Wade ruling that could lead to abortion bans in about half of the U.S. states.
Rapinoe was among those who publicly opposed the ruling on Friday.
She said: "It's hard to put into words how sad it will be for me personally, for my teammates, for everyone out there.
"This will radically exacerbate many of the existing inequalities in our country. It doesn't make a person safer, it doesn't make a child safer, and it certainly doesn't make women safer.
"We know that not having an abortion doesn't stop people from having an abortion, it stops people from having a safe abortion.
"I would encourage people to understand all the different aspects that overturning Roe v. Wade will have on everyone across the country.
"I can't underestimate how sad and how cruel this is."
Lewis Hamilton also slammed the decision in a statement he released Instagram account.
The F1 driver wrote on Friday: "Disgusted by today's decision by the US Supreme Court. I don't understand why some in power would push and continue to push to disenfranchise millions.
"This decision will affect the most vulnerable among us. Women, people of color, members of the LGBTQIA+ community, and more."
This NBA and WNBA issued a statement criticizing the ruling and said the league will continue to support their players in making individual choices and ensure they have the opportunity to do so.
"The NBA and WNBA believe women should be able to make their own decisions about their health and future, and we believe freedom should be protected. We will continue to advocate for gender and health equity, including ensuring our employees have access to reproductive health care regardless of their status where."
U.S. Supreme Court overturns abortion rights
The U.S. Supreme Court voted to overturn the nearly 50-year-old constitutional right to choose abortion, paving the way for half of the country to severely restrict or outright ban the practice.
The power to determine the rights of tens of millions of women to have an abortion will now be handed over to the 50 states alone.
It was one of the most important decisions of the U.S. Supreme Court in recent history.
When the ruling came out, crowds gathered outside the Washington, D.C. courthouse, where some celebrated while others rallied against what they saw as an attack on women's freedoms.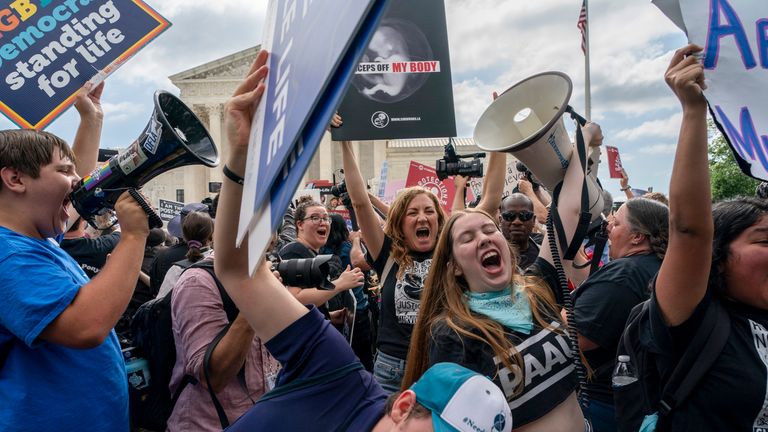 A majority vote of the nine-member panel overturned the court's landmark 1973 ruling, known as "Roy & Wade," which legalized abortion nationwide until the fetus survived, generally accepted in the United States. About 24 weeks pregnant.
At least 25 states are poised to introduce new or reintroduce dormant laws that would make abortion illegal in many cases, including in some cases conceived through rape or incest.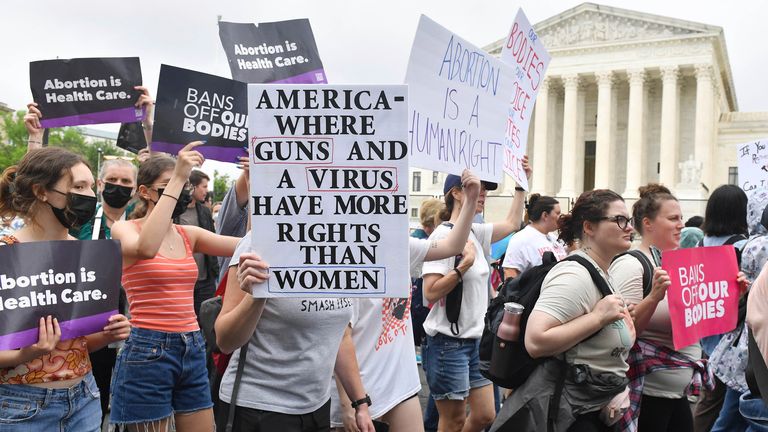 Many of these states are located in the southern part of the country. Thirteen states have so-called "trigger" laws banning abortion if Roy is overturned.
Kentucky, Louisiana and South Dakota have banned the practice immediately.
There will be another 10 in the coming days and weeks. They are Missouri, Oklahoma, Arkansas, Idaho, Tennessee, Texas, Mississippi, North Dakota, Utah and Wyoming.
"No one should be able to choose to end the life of an innocent baby in the womb," one woman said outside court. "So I'm here to stand up for the babies and women who have been injured and killed by abortion."
But another said: "Women deserve protection – that doesn't mean abortion will stop. I've had an abortion, I'm 19 and I'm still sad and ashamed about it. It's very delicate. If we Making that choice doesn't mean we're happy about it. I don't have the funds to take care of my kids the way I want."
Goff: It feels like we're going backwards
Teen tennis star Coco Gauff has been talking up the decision ahead of her Wimbledon appearance.
After tweeting about the decision, Goff revealed she was a keen history student and respected the struggles of those who fought for women's rights to abortion.
"I'm obviously disappointed with the decision that was made," the 18-year-old American said. "Obviously I feel sorry for the women of the future and women of the present, but I also feel sorry for the people who protested about it, [however] Many years ago, and still alive to see this decision overturned.
"I just think history is repeating itself, and I think, I mean, at least from what I've read and researched, because I do like history, I just feel like that decision was overturned and it feels like we're going backwards."
Goff fears that the decision could deprive him of other rights. Earlier, U.S. Supreme Court Associate Justice Clarence Thomas wrote in a unanimous opinion that the Supreme Court should reconsider Griswold, Lawrence and Obergefell — currently protecting contraception, same-sex Relationships and same-sex marriage rulings.
"Not only does this decision signify reproductive rights, I feel it also provides a way to turn around other things that people have struggled to turn around in the past," Goff said.
"But I still want to encourage people to use their voices and not be discouraged because we can definitely make changes and hopefully change will happen."